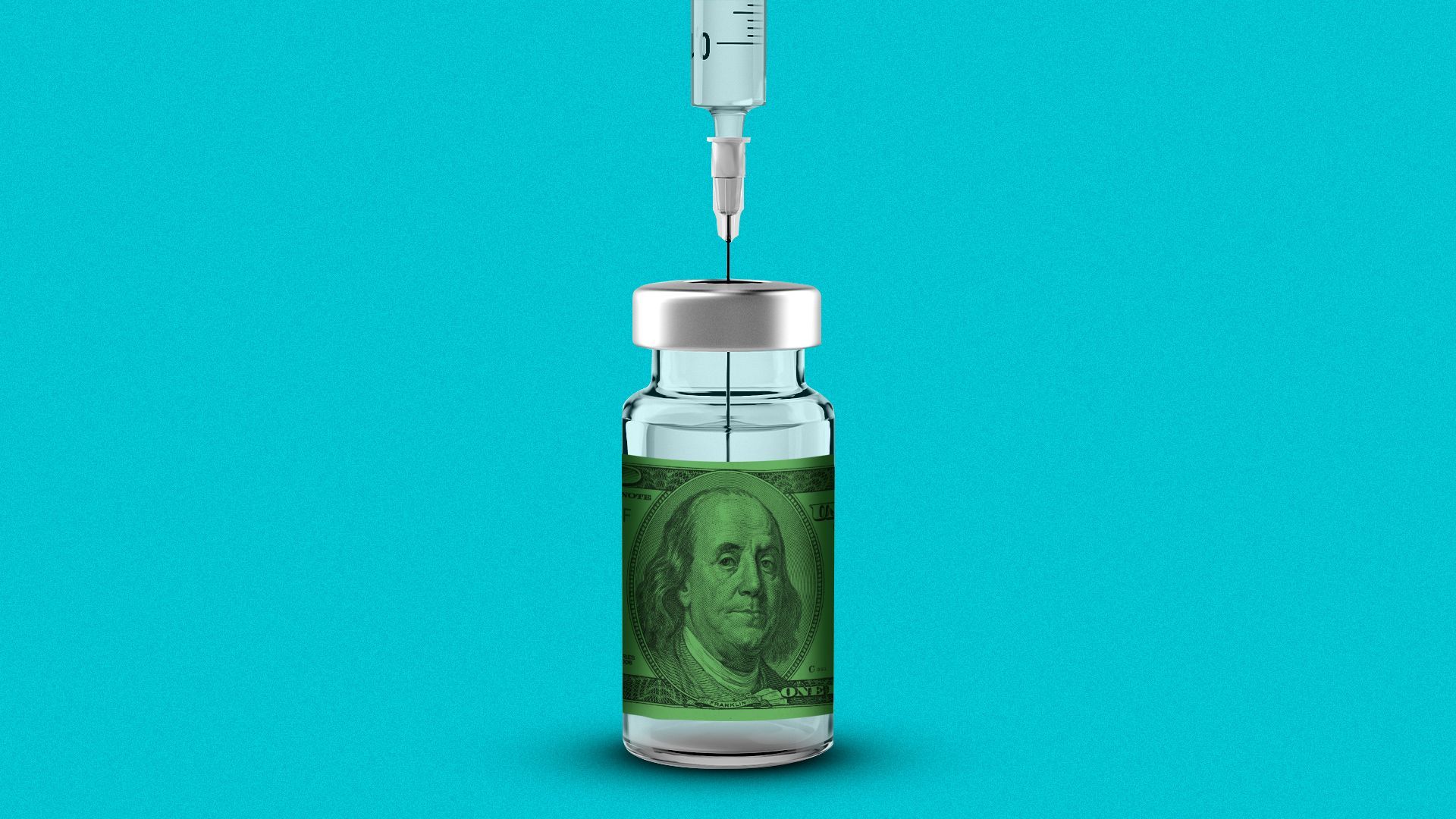 Illustration: Aïda Amer/Axios
Eli Lilly is slashing the prices of its most-prescribed insulins amid pressure from consumers and the Biden administration.
Driving the news: After years of price hikes on insulin, Lilly on Wednesday said people with diabetes would see 70% reductions on its most common versions.
The prices of Humalog, the company's top insulin product, and Humulin will fall 70% in the fourth quarter, according to the company.
The price of generic insulin lispro, which is the same product as Humalog, will drop to $25 a vial on May 1, which Lilly says is less than Humalog cost in 1999. Humalog and the generic version are rapid insulins used to control high blood sugar in adults and children with type 1 and 2 diabetes.
Lilly also said it would cap out-of-pocket costs for its insulin at $35 a month at some retail pharmacies.
Why it matters: More than 1 million American adults ration insulin because of its high costs, according to a study in the Annals of Internal Medicine, Axios' Oriana Gonzalez writes.
What they're saying: "While the current healthcare system provides access to insulin for most people with diabetes, it still does not provide affordable insulin for everyone and that needs to change," said Lilly CEO David Ricks said in a statement. "The aggressive price cuts we're announcing today should make a real difference for Americans with diabetes."
Between the lines: Lilly's move comes amid a push by President Biden and some in Congress to cap out-of-pocket insulin costs for commercially insured patients.
The Inflation Reduction Act limited monthly out-of-pocket insulin costs to $35 for Medicare beneficiaries starting this year but didn't extend the cap to the private market. Many Republicans view such a move as interfering with the market.
Lilly also has been striking deals to boost affordable insulin in developing nations, most recently Bangladesh, per Fierce Pharma. Lilly, Novartis and Novo Nordisk dominate the U.S. insulin market.
By the numbers: A recent Axios-Ipsos poll found that 84% of Americans strongly or somewhat support placing a $35-per-month limit on the out-of-pocket costs for insulin.
Source: Read Full Article