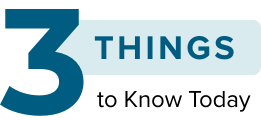 "Polypills" Lower Cardiac Events
"Polypills" can prevent certain cardiac events and deaths in at-risk patients, a new study found.
Polypills — which combine aspirin, an angiotensin-converting enzyme inhibitor, and a statin — can lower the risk in patients who have experienced a myocardial infarction recently, according to the results of a trial reported in The New England Journal of Medicine.
Multiple benefits: The pills appeared to confer substantial cardiovascular protection and lead to average blood pressure and lipid levels comparable to those achieved with regular care.
More questions than answers: The trial did not reveal the mechanism by which polypills prevented cardiac events. And it's unclear when such pills will be available in the United States.

ACS Advice Drops Cancer Risk in Minority Women
New research confirmed that the American Cancer Society's nutrition and exercise guidelines lowered the risk for specific types of cancer in Black and Latinx women.
The study, published in the society's journal Cancer , found that women who followed the guidelines had a 28%-42% percent lower risk for contracting obesity-related cancer.
Focus on women of color: The study singled out women of color because of the lack of data about their population.
Obesity-related cancers were key: The study looked at the incidence of 13 cancers, including breast, ovary, colorectal, uterine, pancreas, thyroid, gall bladder, liver, meningioma, esophageal adenocarcinoma, gastric cardia, renal cell carcinoma and multiple myeloma.

44% of Patients With COVID-19 Were Boosted
Nearly half of patients hospitalized in the spring with COVID-19 had received all vaccinations and at least one booster shot, the CDC reported.
Some 39.1% of COVID-19 patients in hospitals between March 20 and May 31 had two vaccinations and at least one booster or additional dose, the CDC said. Another 5% had two boosters on board.
Vaccines nevertheless worked: Even so, unvaccinated adults were 3.4 times more likely to be hospitalized with COVID-19 than were those who were vaccinated, the agency said.
Blame omicron: The statistics cover the period when the omicron subvariant BA.2 was the dominant strain.
For more news, follow Medscape on Facebook, Twitter, Instagram, and YouTube
Source: Read Full Article