Monkeypox can have severe outcomes, including intensive care unit (ICU) stays and death, particularly among patients with advanced HIV or AIDS, a report in the latest Morbidity and Mortality Weekly Report highlights.
The Centers for Disease Control and Prevcention (CDC) authors, led by Maureen J. Miller, MD, advised that "healthcare providers should test all sexually active patients with suspected monkeypox for HIV at the time of testing for monkeypox unless a patient is already known to have HIV infection."
Researchers Studied 57 With Severe Disease
As of October 21, 27,884 monkeypox cases (confirmed and probable) have been reported in the United States.
The report summarized findings from CDC clinical consultations for 57 adult patients hospitalized with severe manifestations of monkeypox from August 10 through October 10.
Of the 57 patients, 47 (82%) had an HIV infection. Four (9%) of those patients were receiving antiretroviral therapy (ART) before being diagnosed with monkeypox. Most patients were men (95%), and 68% were non-Hispanic Black.
Three in 10 patients received care in an ICU, and 12 (21%) died.
"As of this report, monkeypox was a cause of death or contributing factor in five of these deaths," the authors write. Six deaths remain under investigation to determine whether monkeypox was a cause or a contributing factor, and in one case, monkeypox was deemed not to be involved.
Regarding clinical presentations, all 57 patients had dermatologic symptoms, and 39 (68.4%) had mucosal involvement, including oral, urethral, rectal, vaginal, or other lesions.
"Monkeypox and HIV have collided with tragic effects," CDC Monkeypox Incident Commander Jonathan Mermin, MD, MPH, said in a statement.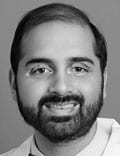 Dr Aniruddha Hazra
Aniruddha Hazra, MD, an infectious disease expert at UChicago Medicine in Illinois, who was not part of the study, told Medscape Medical News the findings of the report are familiar at his institution.
At UChicago Medicine, he said, physicians have switched to treating patients with moderate to severe monkeypox earlier and longer when they have advanced HIV or AIDS.
There's less assurance among this population that they will recover easily from monkeypox, he noted, adding that they need close monitoring.
Start Treatment Earlier
"For those presenting with monkeypox symptoms who have uncontrolled HIV and low CD4 counts, we need to start treatment earlier and not wait until there are more significant manifestations," said Hazra
Hazra explained that he and his colleagues initiate treatment with tecovirimat (Tpoxx) for such patients at diagnosis and continue treatment for an extended period "until all symptomology is completely resolved."
They also consider giving adjuvant ART and immunoglobulins early "to prevent potentially the progression to these more severe complications."
Patients in the study were given tecovirimat, but the authors note that treatment for some was delayed by as long as 4 weeks.
Hazra said 4-week delays "are not uncommon."
Initially, it can be hard for people to receive the full diagnosis, depending on where they go for treatment, and it can be difficult to find a place that will dispense tecovirimat, he explained.
Boghuma Titanji, MD, PhD, a physician-scientist at Emory University in Atlanta, Georgia, and an emerging-disease specialist, who also was not part of the study, told Medscape Medical News that this report helps raise awareness that monkeypox can be quite severe, particularly in people who are severely immunocompromised.
"The group that we're seeing these sorts of very complex cases in have been individuals living with HIV who have CD4 counts lower than 200 — so that really places them in the AIDS category," she said.
"We have seen a lot of diagnoses of HIV in the context of monkeypox," Titanji said.
Proactive Screening Can Lead to Earlier ART
Titanji explained that identifying HIV with proactive screening allows earlier management of the patient's compromised immune system with ART.
She said monkeypox diagnosis has improved in recent weeks with more polymerase chain reaction testing available in laboratories. More institutions are also validating their own in-house systems for evaluating monkeypox samples, she noted.
"It makes it easier now for providers to send off samples and get an answer in a quicker time frame than what was happening at the beginning of the outbreak," she said.
The World Health Organization declared monkeypox a public health emergency of international concern on July 23.
The authors, Hazra, and Titanji report no relevant financial relationships.
MMWR Morb Mortal Wkly Rep. Published online October 26 , 2022. Full text
Marcia Frellick is a freelance journalist based in Chicago. She has previously written for the Chicago Tribune, Science News, and Nurse.com, and was an editor at the Chicago Sun-Times, the Cincinnati Enquirer, and the St. Cloud (Minnesota) Times. Follow her on Twitter at @mfrellick.
For more news, follow Medscape on Facebook, Twitter, Instagram, and YouTube.
Source: Read Full Article