Kate Hudson is an actress, a mom of three, co-founder of the activewear brand Fabletics, and a current Weight Watchers ambassador…not to mention total #fitnessgoals. (Like, seriously, have you seen her abs pics?) Luckily for her fans, Kate is super-open about her fitness routine and healthy habits.
And she's never been afraid to share her successes and struggles. The 40-year-old set a goal to lose 25 pounds with WW following the birth of her daughter Rani Rose (born October 2, 2018). Dropping the pregnancy weight this time around was a longer, tougher process than after she had her sons, Kate revealed as the December 2019 cover star of Women's Health. "Unlike with the other two, I didn't really have time to work out," she says. "It took a different kind of discipline."
Kate has also been extremely candid about her wellness journey on social media. In April, she posted a long message on her Instagram, where she got real about her progress since giving birth. Now, over a year postpartum, Kate tells Women's Health, "I feel good, energetic, and strong. I feel like myself again."
The actress says she squeezes in three to four workouts a week, and prefers to switch up her routine (Hint: The Mirror and a LOT of Pilates is involved). But what exactly does Kate do on the reg to get (and stay) so fit?
1. Kate turns to her trainer.
Kate gives Instagram shout outs to her trainer, Nicole Stuart, all. the. time. Probably because the friends have been working together for over 20 years—"I've known her since I was 19 years old," says Kate. Right now, Stuart says they try to meet up once or twice a week. Their training mainly focuses on Pilates, with both strength and cardio components.
2. Speaking of Pilates, Kate's kind of in love with it.
It should come as no surprise due to her dedicated training with Stuart, but Kate is a big fan of Pilates. Her IG is a testament to that fact, as she posts lots and lots of content about the workout. She's shared exercises on the reformer multiple times, declaring the core-centric workout as her number-one.
"I know I'm at my strongest is when I'm doing my Pilates because it never gets easier. The more you do Pilates the harder the things you can do become," says Kate. "I love how flexible I feel and I like what it does to the shape of my body."
3. She's a dancing queen.
Girl's got moves and she's not afraid to show 'em."I like to do any kind of dance workout," says Kate. Stuart says you'll find Kate casually dancing around her apartment or at parties. (A WH kind of gal!)
Stuart also notes: "I think cardio is really important, not necessarily running a long distance, but doing something that will get your heart rate up, which is why we love dance."
Recently, Kate has also become a big fan of pole dancing. (She even has her own a pole at home!)
4. Kate is a dedicated yogi.
The actress shared that her pregnancy with Rani was very challenging—she regularly felt very sick, especially during workouts.
But, recently on Instagram, she revealed that yoga was a major part of her fitness focus during this time.
"Yoga was a huge part of supporting my pregnancy," she captioned a photo for International Yoga Day that showed off her stomach. "I loved my practice with my growing belly and connecting to her beautiful spirit." Now, she also regularly includes hot yoga into her weekly fitness rotation.
5. She's a fan of Peloton.
"I have the Peloton Tread, I just got it and I love Peloton," says Kate. "I think they make it so easy to have 'no excuse' workouts. [I can spend] 10 minutes doing a little mile run instead of just sitting there doing nothing." In the past, Kate has also been caught spinning on her at-home Peloton bike on Instagram stories.
6. She takes her workouts outside.
It's no secret that Kate loves the great outdoors—just check out her totally swoon-worthy photos on Instagram for proof.
So naturally, she brings that into her fitness routine too. "There are times when I'm so busy with work that I don't have time for a proper exercise session. But I'll go for a hike instead," Kate told Women's Health UK.
In fact, her very first date with boyfriend Danny Fujikawa took place on the trail. "A year ago today Danny took me on a hike and what I thought was just a hike with a family friend turned very quickly into an unexpected first date," Kate wrote in an Instagram caption. Awww!
7. Kate keeps fitness fun.
Rather than view fitness as a chore, Kate has said time and time again that she genuinely loves breaking a sweat. And she finds all kinds of fun ways to stay active.
Just take this hilarious routine Kate and Stuart created together using an extra creative exercise tool: wine bottles. Now that's a workout I can really get behind.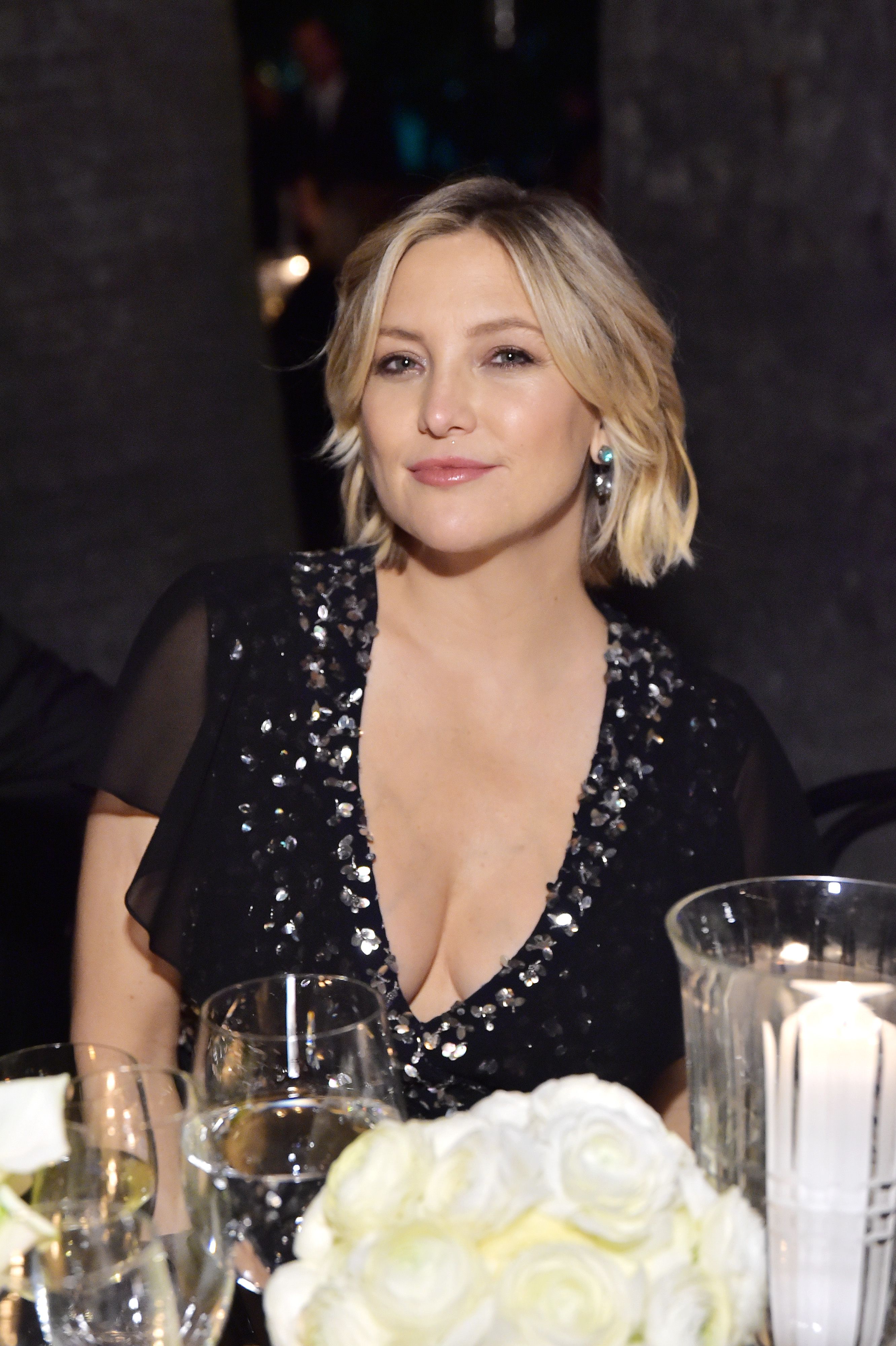 Cheers (with wine bottle weights!) to the hard work, Kate.
8. She has used The Mirror.

The Mirror has a cult following, and apparently Kate is part of the crew. In 2019, Kate's friend Erin Foster shared a few Instagram Stories that featured herself and Kate doing an at-home barre workout with the subscription service.
At one point, Kate took a time-out to nurse her daughter Rani. "And, we're pausing for a breastfeed," Erin says. Kate then went back to her workout while nursing Rani. "Motherhood doesn't slow us down," Erin wrote over another video of Kate doing leg lifts, lunges, and more while still nursing.
9. She'll do a video workout here and there.

Even celebrities turn to pre-recorded workouts now and then. Kate is a big fan of Body By Simone and Brazilian Butt Lift workouts, Stuart said.
10. She's game to try out new activities.

Kate loves testing new workouts: "You name it—we always try new things," Stuart said of her longtime client. The Mirror, Peloton, workout videos, Pilates…she doesn't mess around.
11. She's a social exerciser.

No matter what exercise she chooses, Kate regularly talks about working out with her buddies. "Find a friend that likes to get it and GET IT!" she wrote alongside one recent Instagram post that featured her lifting weights with a friend.
12. She stays consistent.

Kate said in a Westman Atelier YouTube chat in September 2020 that she's been taking Obe Fitness classes online. Kate said she's specifically into taking 28-minute classes at least once a day, five days a week, and sometimes squeezes in classes as late as 9 p.m.
13. She listens to her body.
Kate said in her Westman Atelier YouTube chat that she tries to take breaks when she needs one. "I'm not a strict wellness person," she said. "I understand when it's daunting to people. I also think we need to connect with what we need in a moment. Like you might think you need to work out, but what you really need is to sleep."
14. She tries not to go too long between workouts.

Kate previously told Los Angeles Confidential that she's "very consistent" with her workouts. "I don't go too long without being active," she said. "When you work on movies, it's hard to actually work out, so it kind of goes in waves, but I never go too long without working out. If I've gone two weeks without working out, I just don't feel good internally."
15. Kate mixes up her cardio, too.

While Kate does all the exercises (*gestures broadly*), she shared with Los Angeles Confidential that she likes to mix up her cardio workouts, too. "I box and sometimes I run," she said.
Source: Read Full Article